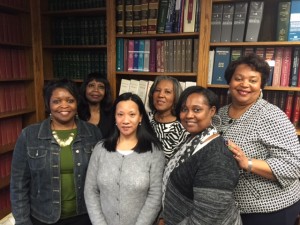 First Row (left to right): Carmelia Davis-Raines, Luisa Johnson, Toni Williamson, Cheryl Muskelly
Second row: Pauline Robinson, Elaine Seay-Davis, (Lynda Jones not present)
July 6, 2018
Seattle, WA
Today one Asian American and six African-American former employees at SPU filed a petition with the Washington State Supreme Court asking the justices to grant them a new trial because the jury panel for their race and age discrimination trial lacked racial and economic diversity.  At trial in the King County Superior Court,  the plaintiffs objected to the venire (the juror pool) and asked the Honorable Suzanne Parisien to dismiss that venire and bring in another panel of potential jurors that contained some black persons.  Judge Parisien denied the request. They also asked Judge Parisien to reconstitute the venire because after Judge Parisien granted requests for hardship dismissals based on financial concerns of lower wage earners whose employers would not pay them to sit on the jury for three weeks, those not dismissed constituted an elite cross-section of the citizenry, including non-working retirees and persons who worked for big companies in higher paying salaried jobs who would be paid through a three-week trial. The plaintiffs argued that Judge Parisien should create a trial schedule which may permit more economic diversity in the panel, such as holding court fewer days in a work week. Judge Parisien denied that request as well.  The petitioners consider these rulings to be denials of their constitutional rights to equal protection and to a jury trial.
As to the economic diversity issue, if review is granted by the Supreme Court, petitioners will suggest possible solutions include paying jurors at least the minimum wage to enable low-income workers to be jurors, or to have court fewer days each week so hourly workers can still work and earn a living wage. Jack Sheridan said, "we have to find a way to allow all citizens, regardless of their income levels, the right to participate in jury service.  It's the only time that the average citizen has a chance to fight back against abuses by big companies and big government, and we have to make sure that the jury is a jury of our peers.  We can't let the right to a fair trial be diluted."
As to the racial diversity issue, the petitioners rely on the results of the 2016 juror survey done for the courts showing that white jurors in King County are systematically "overrepresented" in the juror pool, while black jurors are systematically "underrepresented."  See petition at A-50.  Supreme Court Justice Wiggins has written that in the criminal context, studies suggest that when comparing a diverse jury to an all-white jury:
All-white jurors tend to spend less time deliberating, make more errors and consider fewer perspectives. . . . In contrast, diverse juries were significantly more able to access reliability and credibility and avoid presumptions of guilt and fairly judge criminally accused in a criminal case. By every deliberation measure heterogenous groups outperformed homogenous groups. These studies seem to confirm what seems obvious from reflection: A more diverse group of juries has a result of fairer trials.
Jack said, "What good is the right to a jury trial if the deck is stacked against you at the start, and the deck is stacked against black plaintiffs in King County and in most counties in the state. The Supreme Court needs to step in and create rules to ensure the juror pool is diverse racially and economically."
Click here to see copy of Supreme Court Petition
Click here to see Supreme Court letter
Below is a video on race and juries in America
Click below for link to Court of Appeals website to hear Johnson v. City of Seattle oral argument
https://www.courts.wa.gov/appellate_trial_courts/appellateDockets/index.cfm?fa=appellateDockets.showOralArgAudioList&courtId=a01&docketDate=20180228
Click below for link to Court of Appeals website to hear related case of Monroe v. City of Seattle oral argument
https://www.courts.wa.gov/appellate_trial_courts/appellateDockets/index.cfm?fa=appellateDockets.showOralArgAudioList&courtId=a01&docketDate=20180605